Roll over image to zoom in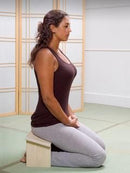 Though it is designed to fit almost all sizes, it is important to note that not everyone is able to use the stool. Most sit on it and think: bliss! Others, not so much. But if you're in the majority that find this stool comfortable, you'll find that it will help your ability to meditate by creating a clean and comfortable physical slate, so that you can clear your mind. And, as they say, the rest will follow.
Dimension - L 45 cm x B 19 cm x H 18 cm 
Material - Unpolished Natural Rubber Wood
Thickness - 18mm
Please Note - This item is a non returnable product and can only be returned/exchange in case of Damage/Defective/Wrong item received
Dear Customer , 
If you need any help in installation or assembly of the product then you can opt for any other online assembly / installation service provider, whichever is convenient as per your choice like UrbanCompany etc.
Assembly person may take 3-5 working days to be arranged at your doorstep or you can also call any local carpenter to get it installed.

NOTE:- We do not provide any installation or assembly service personally.
Thanks
Team PeelOrange
Loved the Vajrasana stool. Doing kriya on it is so amazing and not stressful on my operated knee. Thank you so much 🥰❤️.
Dear Sir/mam,
Thank you for your Feedback and Appreciation
Happy Shopping From Peelorange !!
Comfortable. The finishing could be smoother, but overall a comfortable footstool.
Dear Sir/mam,
We apologise for the inconvenience and we accept this as a feedback to improvise towards providing better service
Thank you for your cooperation and support